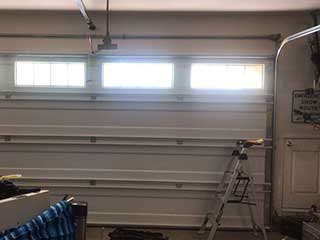 Most people have no clear cut plan for their garage door maintenance. To maintain the longevity of doors, a few maintenance tasks should be done every month to keep them trouble-free:
Top Quality Services
Monthly door balance test: In a situation where your door is equipped with an automatic garage door opener: Close the door and disconnect the automatic opener. Perform the task of lifting the door manually. If you lift the door smoothly without any resistance, it is an indication that the door is balanced. If you find it difficult to lift the door manually it is a sign that the door may be out of balance. You should contact us to service the door for you.
Monthly reversing mechanism test: Door openers manufactured over the last decade are mandated by federal law to be equipped with a photo edge or eye sensor and reverse mechanism as additional measures of safety in the prevention against entrapment. Perform this simple test by laying a piece of wood on the floor where the door would touch the floor. With the door fully open, push the garage door wall button to close the door. The door should reverse after striking the wood on the floor. If the door does not reverse automatically, the door should be serviced.
Monthly force setting test: If your door is having an automatic opener system, perform this simple test. Begin with an open garage door, then press the wall mounted button in order to close it. As the door is closing, place your hands at the bottom of the door and apply pressure upwards in an attempt to keep it open. If the door continues to close without reversing, remove your hand.
Finally, our company has garage door maintenance experts who are always ready to help you service your garage door. Feel free to contact us for your garage door maintenance anytime you need.